Resources for Parents and Educators
Who built the ark? Noah! Noah! 
Who built the ark? Noah! Noah built the ark! 
Want to have a short family devotional with the kids about Noah?
Check out some resources below, and prepare by reading the account of Noah in Genesis 6-9.
First, you can use the Biblemoji© cards to present the character you are going to talk about. Take the 5 clue cards of Noah's family, and lay them down before the kids one by one (keep the most obvious ones, like the ark and the rainbow, last). The first to shout "Noah!" has won the guessing game!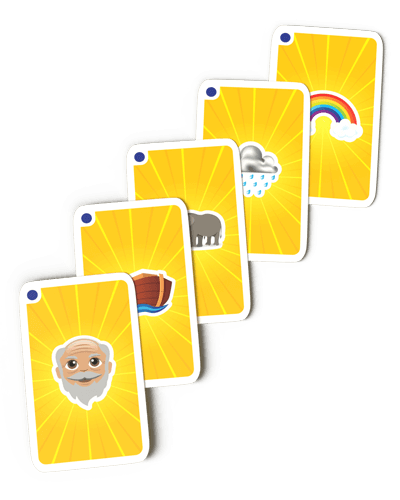 Depending on the age or Bible knowledge of the children, you may want to focus on particular aspects of Noah's story, for example: 
Just relating the story of Noah, the ark, the animals and the rainbow. 
Noah's obedience to build the ark (during a hundred years!). 
Noah's faithful walk with God despite living in a wicked time. 
God's rescue plan for humanity. 
God's promise with the rainbow. 
Jesus, and the Grand Plan of God, in Noah's story.